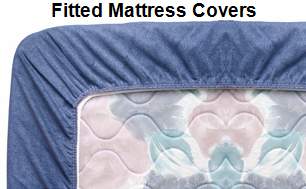 Fitted Mattress cover works similar to fitted sheet, but in a heavier, upholstery weight fabric, covering top, the sides and partially bottom of mattress.

Works on mattresses from 6 to 12 inches thick.
Available in Twin, Full and Queen Mattress sizes.

Made in USA. All In Stock for immediate shipping.
Select from options below:
Fitted Mattress Covers
Mattress shoppers are often concerned that they won't be able to find mattress covers to fit plush, extra-thick models or unique sizes. But fortunately, mattress covers have adapted to these state-of- the - art mattresses and foundations. Fitted mattress covers for these new, thicker mattresses are readily available, and often noted on packaging as compatible with "extra deep" mattresses or featuring "deep pocket" construction. In fact, SlicoverShop.com offers a wide range of fitted daybed covers and mattress cover sizes, from standard to extra deep, with specialty sizes including dorm mattresses. Whatever your choice, twin, full, queen chair or even custom cover, rest assured there are mattress covers made to fit just right.
Choosing fitted mattress cover or any cover for mattress is easy by using this guide that shows you some of the differences between each option or fabric type. Use provided filters to Select your mattress cover based on pattern, color, wash ability and even the way the fabric has been treated. This way you'll be sure to get the best possible mattress cover for your needs.