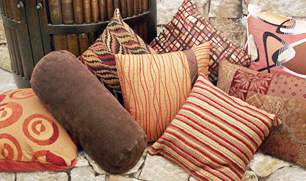 Throw pillows and bolsters offer the opportunity to embellish and enhance interior decor by introducing splashes of color, texture, and patterns.

We offer a wide selection of patterned pillow cover and bolster covers that you can purchase with or without inserts.

Select from patterns below:
Bolster & Throw Pillow Covers
Pillows and Bolsters
We offer a stunning online selection of bolster and throw pillow covers that feature hundreds of patterns to match our other furniture slipcovers. Our throw pillows and bolsters are sure to have a lovely patterned pillow cover to fit your dream design and complete your space. Our bolster pillow protectors keep your pillows looking and feeling fresh so you can enjoy them longer.
We offer designer pillow cover styles that fit any taste and theme to help transform and enhance any interior space. All bolster and throw pillows are available with and without inserts.