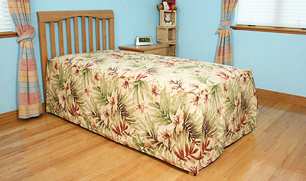 Custom covers for your bed.

Made to fit Twin, Full, and Queen bed sizes.
Also available with matching pillows.

Price includes: Our fabric and labor.

Lead Time: One week.

Our Work: Before and after
Select from patterns below:
Custom-Made Bed Covers
We create custom bed covers that are made to order and feature various fabric colors, patterns, and fabric styles. With so many different fabric materials, patterns, and colors to choose from, you can easily create a custom bed cover to match your style and mood. Whether you're looking for fitted bed covers, patterned bed covers, or any other type of custom bed covers, our team can help. We have everything you need for the perfect addition to your bed. Our bed covers are also available in matching pillows to coordinate a new look for your space. Browse our exclusive selection of fabric and materials to find the perfect combination for your custom bed cover.
All our bed covers are 100% made in the USA.